29th October 2018
29-October-2018
29-October-2018 17:38
in General
by Admin
Sebastopol is fine after his run at Cheltenham at the weekend as is Triopas who just found the ground too quick up north in a steady run race around a tight track. Dorking Cock is like goofy, until the penny drops we will have to wait patiently. He has always been a very fractious individual. Keeping him on the gallops hasn't always been the easiest of tasks and forcing him at home would have only resulted in making an uncontrollable horse. He's come a long way mentally since running over hurdles, yet he has to realize why horse racing is named horse racing. When it all clicks I believe he'll be winning his races as do the jockeys who have ridden him. Polydora made a super debut over fences, he will come on for the run and will surely win his races.
Quri missed the 2ndlast at Ayr and that was that. A real shame for Eamonn who does all the work with her. She will surely get her head in front before too long.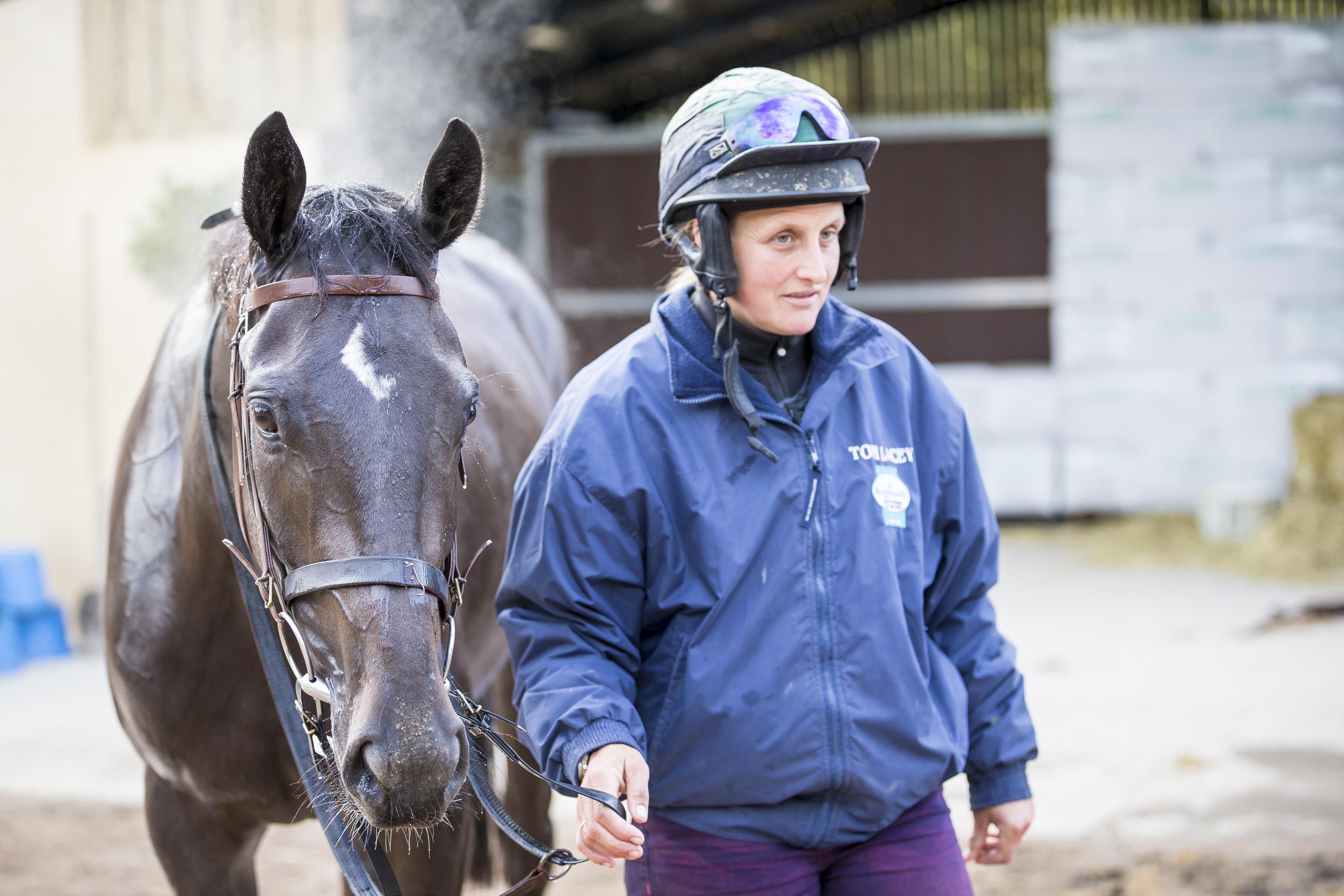 Typical Monday morning canters for the horses this morning.
Charlie Brooks wrote about trainers and depression in todays Telegraph and eluded to bad payers being one of the reasons. I'm sure some trainers are troubled with slow payers and non payers. Thankfully, I'm not. If I am, they generally aren't around for long. I'd rather right it off and get the horse moved out ASAP. A bad deal only gets worse in my experience. A few years ago one owner arrived carrying his last bill. He complained about this that and the other and offered me less than 50% of what was due. Needless to say I didn't accept his offer and used some pretty fruitful language when asking him to leave the yard. Surprisingly, although warned, the next trainer told me he had the same problem when he got the horse. Anyone who read the article and knows me will know that the chances of me mudding the waters by holidaying with my owners is also highly unlikely. I have always maintained I'd like owners to send me horses because they think I'm good at my job, not because I will stand in a bar and drink with them.
There has been a big campaign on social media and various other platforms for jockeys and stable staff to speak up if suffering mentally. Anyone who read the article about Mark Enright in Sunday's Racing Post who couldn't empathize has lived a very idyllic life to date. When he was suffering from depression he was a young man desperate to be a jockey and simply couldn't cope mentally with the thought that it wasn't going to happen. Thankfully, for him it has happened and he is without doubt a very accomplished jockey who's in a good mental place now – it could have been over for him only for his mate being at home at the right time. I know horses aren't going to win every time they race but it doesn't stop me feeling responsible when they don't. Living with that, no matter how irrational it is, is mentally tough going day in day out. I constantly question what I am doing with the horses and when it doesn't work out I'm pretty hard on myself. There are also things in life that are out of anyone's control, realizing them is easier said than done. However, the day I wake up and couldn't care less will be the day I hand in my trainer's license. I like to describe my horrendous humour as passion rather than depression.