23rd September 2021
23-September-2021
23-September-2021 12:41
in General
by Admin
More nonsense in the world. There will be no more batsman in cricket, the batsmen will now be referred to as batters for fear of causing offense to the ladies in the world. Speaking of cricket, I had the privilege of donning the whites for Eastnor last Saturday, apart from dropping a catch of Stan's blowing I didn't embarrass myself too much. I must add, I wouldn't catch it if I had ten goes at it. It was travelling at speed and I foolishly tried to grab it having considered allowing it to sail pass me. Stan bowled his first over beautifully only to start bowling double bouncers, full tosses at head height, wides and no balls before getting an official warning for dangerous bowling. I think a record was broken for the club with sixteen balls bowled in one over. I saved him four runs with my dropped catch, for which he should be grateful. My bowling was average but, I did take a wicket as did Stan. Mine was a tail ender and his age can not be divulged Stan had a very good caught and bowled. Stan and I opened the batting, I was caught in gully on 37 while Stan secured the other end in true Geoff Boycott fashion, eventually he was caught on the boundary rope having reached double figures after fifteen overs or more. I was fun and I shall do it again next summer when time allows.
The mornings have simply been beautiful this week.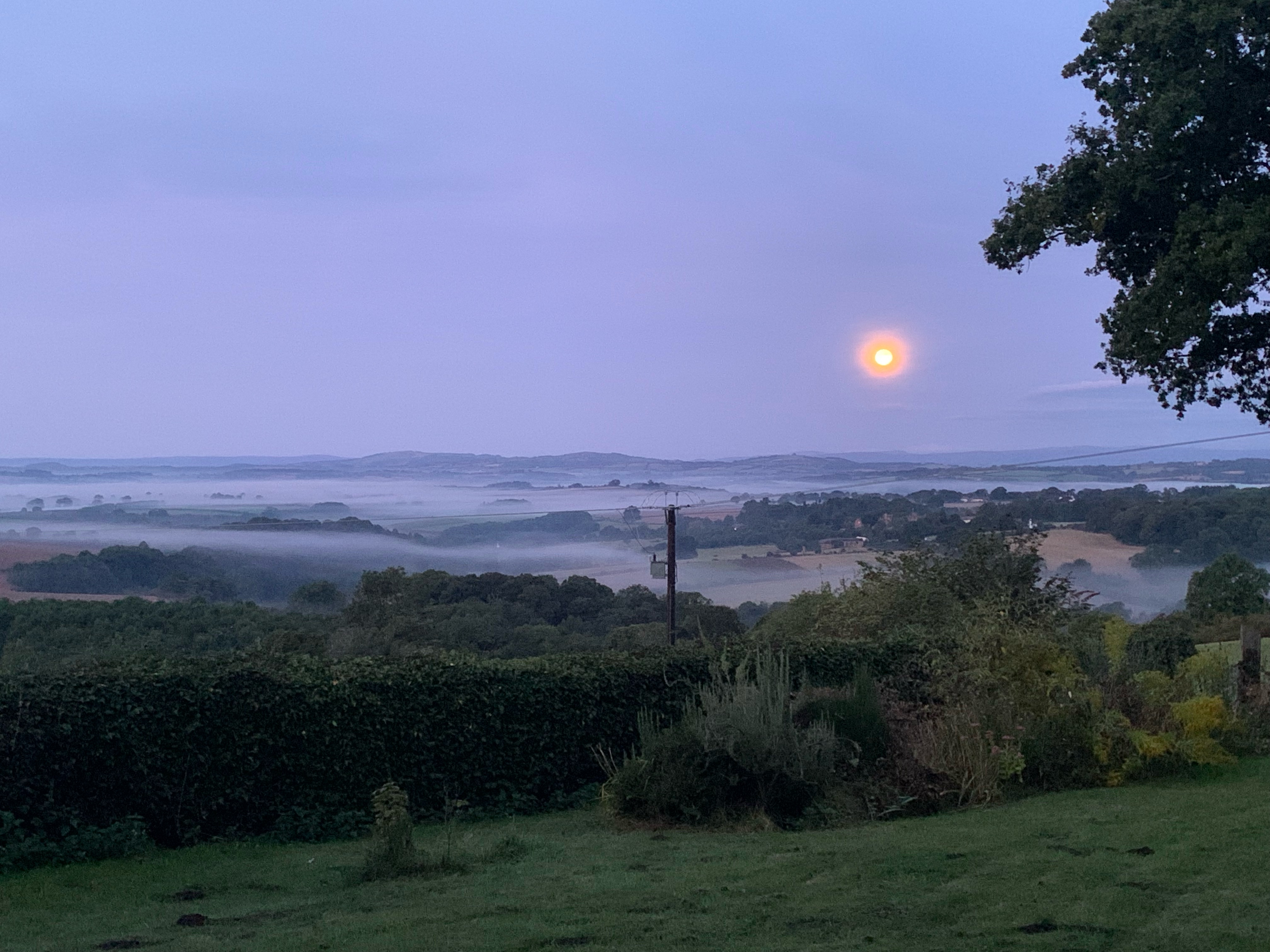 Glory and Fortune is fine after his win at Plumpton on Sunday, his jumping was poor and I can only put that down to the track, the ground becoming slippery and speed. He would have been more unbalanced around there than balanced, Plumpton was never going to play to his strengths but it was the right race for him and thankfully, that proved to be the case. His schooling has been very accurate and we will possibly look at The Welsh Champion Hurdle next.
Yesterday we took Marty Time, Hesque De L'isle, Glory and Honour, Toucan Sam, Argonauta, Montgomery, Tea Clipper and Quick Draw for an away day. They worked over a mile and jumped fences or hurdles afterwards. Johnny Burke, Stan, Tom Bellamy and Tom Doggrell gave us a hand with the steering. Jockeys seem to manage their lives very differently of late, more yards are securing a first jockey which isn't always what it seems as they can be first jockey to more than one yard. The aforementioned will know all the horses here and will share the rides this winter, Stan will be coming in for many rides for those owners that want consistency. Stan is here every day of the week and deserves his chances on the bigger stage.