23rd May 2020
23-May-2020
23-May-2020 15:48
in General
by Admin
We have never been so up together with the maintenance; under normal circumstances we are racing against time to ensure it is all done before the horses return to training at the end of June early July. The situation has been helped in that we got out of the stalls way quicker than normal. The woodchip has been topped up, the sand completely flipped on its head, every stable power washed and disinfected and a lick of paint where needed. The water walk scrapped clean. Ditches cleaned and drains repaired where needed. The hurdlers have been washed, painted and modified. I was fortunate to get some of those padded hurdles that hadn't quite made the grade for the race courses. However, they and all those on racecourses have a design fault in that the tops snap off when kicked by horses. To that end, we have cased them in rubber and glued the rubber down onto the foam. Whilst gluing, I was reminded of a hockey match I was playing in at Oxford one day. This glue sniffer invaded the pitch, sat down on the half way line putting a plastic bag up to his already glue covered mouth inhaling his fix. He took some persuading to leave but it taught me to stop at Tipex thinners.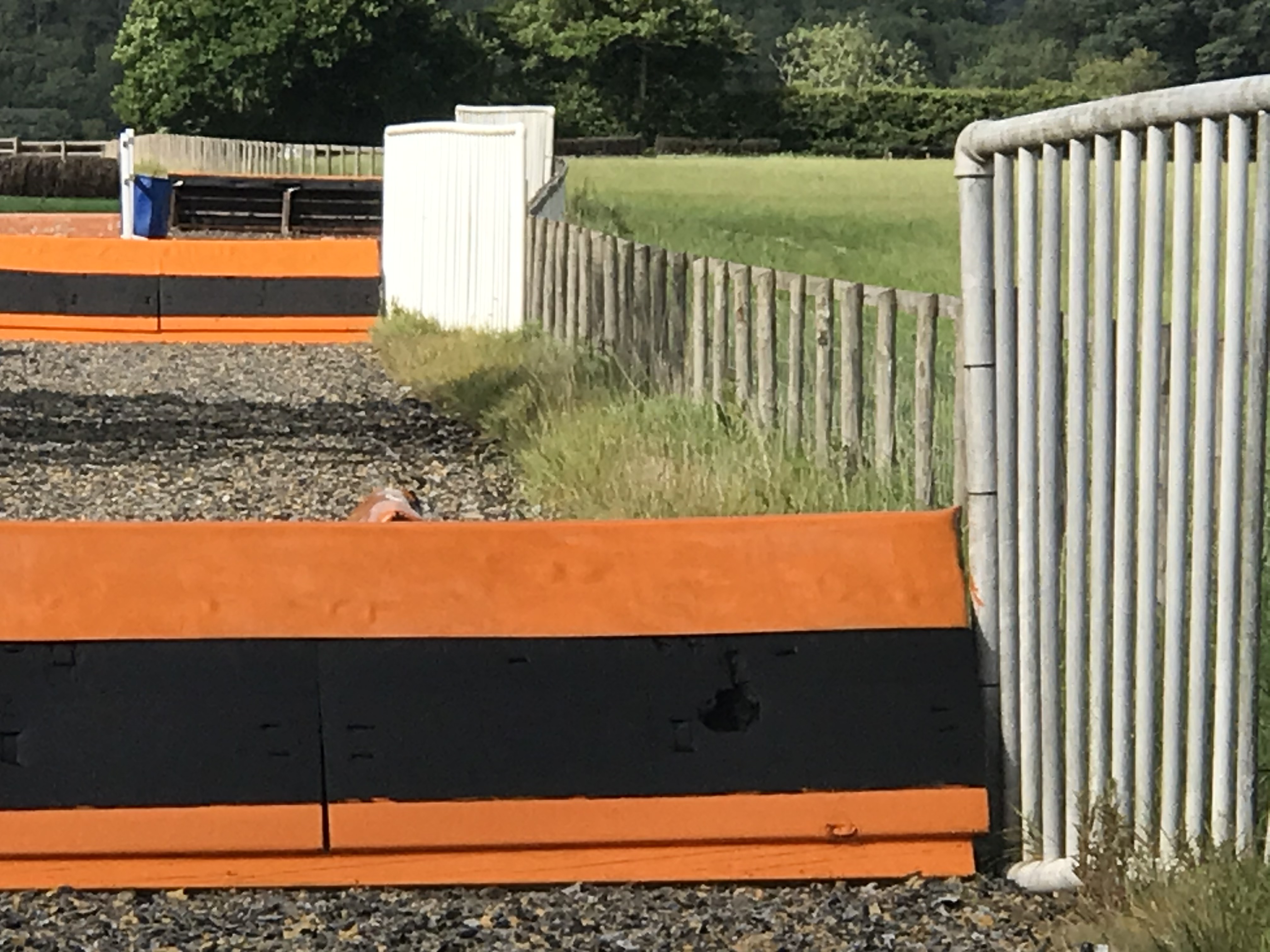 The new woodchip turnout pens have come to a grinding halt as we are still waiting for the timber to fence them.
Things are getting a little more interesting as we've been able to look for races for some of the horses in training. Swift Wing will hopefully be our first runner back at Newcastle on the 7thJune. I am still unsure if the maximum field size remains at twelve, if so I'm sure there will be twelve horses rated one pound more than him on 78 leaving in searching and looking for another race. I presume they will be dividing some races so he has a better chance than many others of getting a run in a 0-78. I have identified races for Yes No Maybe So, Ardlair and Black Anthem in early July so fingers crossed things keep improving and we can get back to doing what we enjoy.
I moved a couple of the horses at grass around during the week, I can't recall a kinder summer for them, some are getting huge, there comes a point when standing out in those lush green Cotswolds fields getting fatter and fatter is not good for them. I already hear the cries of "this horse's wind has gone"! Mark Johnson pointed out to me that the larynx is a muscle and when not used it wastes away. Most of our horses have already had at least six weeks out at grass and I do worry about the consequences of them being out for so long. We bought in two horses last week who may find some opportunities over the next few months and will be bringing in another two tomorrow in the hope that they too will find their races over the summer months.
This week horse's vaccinations records moved to electronic filing, admittedly, I experienced a few teething problems finding my way around the app but thankfully, I am not the trainer who spent four hours uploading data only to be told it had not uploaded. Having experienced a few issues, I had the sense to check that it was working before ploughing on. I also managed to complete my Covid 19 Racing Industry certificate without issue. During the module I was asked to tick a box stating my gender. There are now genders of people I had no idea existed. Thankfully for those struggling, a box was provided for those still unsure of their gender.
The Romainians even make their own fork handles, they are some men and if anyone can, they could turn a pigs ear into a silk purse.