18th October 2018
18-October-2018
18-October-2018 16:05
in General
by Admin
There are periods of time for everyone when things just don't run smoothly, the last 48 hours has been pretty testing. We all know that it happens but it never gets any easier to accept when horses get injured, it is simply the worse part of this job.
On Wednesday morning we found a horse due to run over the weekend with a big hind leg, he has a nick and an infection has taken hold. It only takes a pin prick to cause such annoyance, thank goodness it will come right very quickly and is nothing more than an irritation. The dog got kicked yesterday and ended up in the vets, that too is on the mend. But what really hurts, is Megan's Choice. He was popping over a few hurdles this morning and fractured his cannon bone. He is now in a cast and only time will tell if the bone will knit or the injury will become fatal. One just doesn't know what is around the corner and taking their health and fitness for granted is foolish. You only need to look at the papers in the build up to Cheltenham festival to see what can happen in the hours before a race. The horses have no idea if they are being prepared for a Gold Cup or a seller, yet, we only get to hear about the hardship owners and trainers face during the build up to big occasions.
This morning, we schooled Jester Jet, Sir Egbert, Polydora, Coningsby, Thomas Patrick and Kimberlite Candy over fences. Kateson, Soraya, Sebastopol and Templeross over hurdles. We schooled eight 3 year olds over fences in the ménage and fithteen 3 year olds over hurdles on the schooling strip.
A few heading for home, Thomas Patrick leading the way.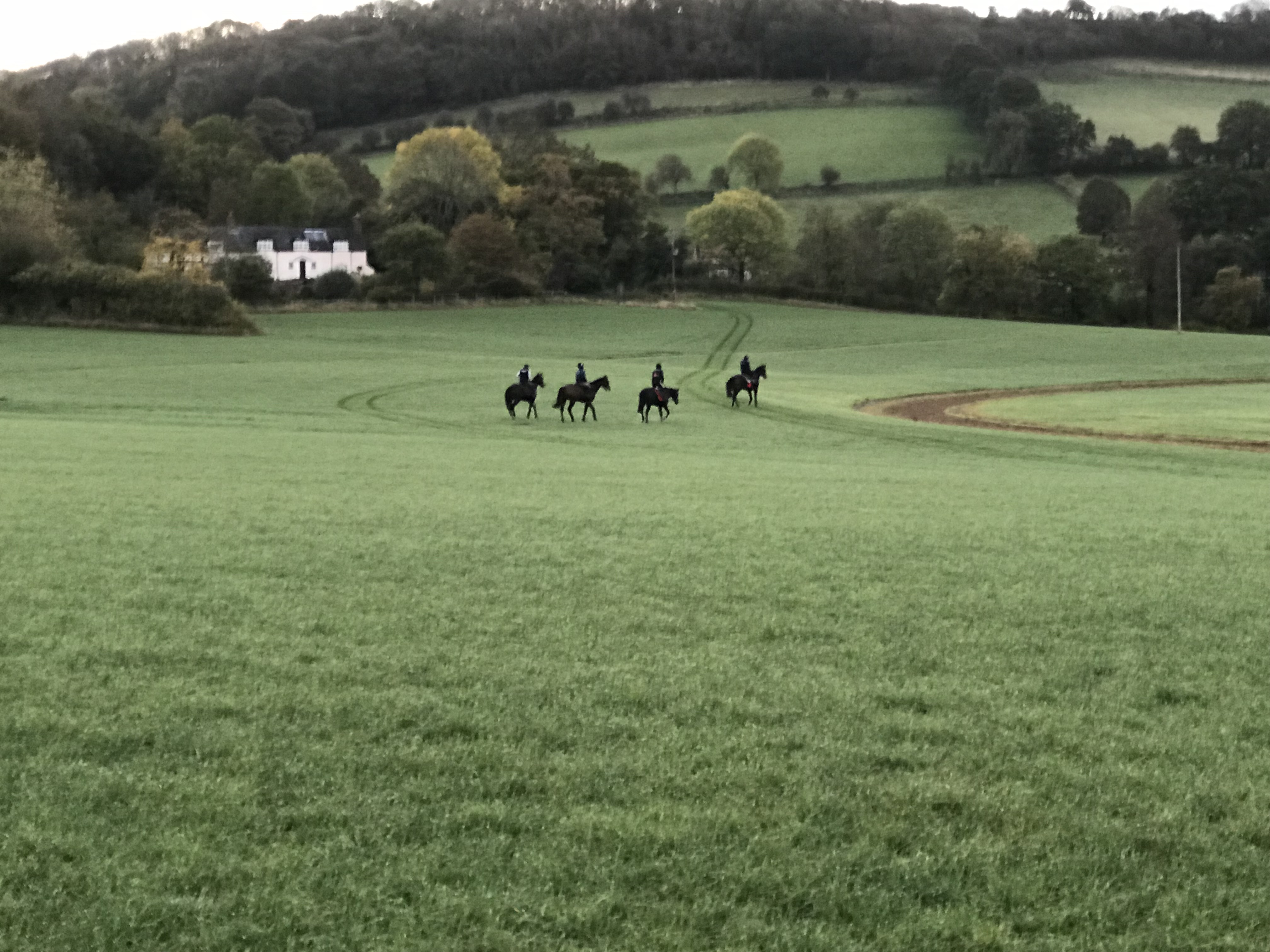 En Meme Temps showed more promise at Carlisle, tracks like that suit him where nothing happens too quickly, he will have learnt a lot there this afternoon and can now hopefully continue to take further forward steps.