5th November 2015
05-November-2015
05-November-2015 15:50
in General
by Admin
What a fab day we had yesterday, Lamanver Alchemy won the bumper at Warwick. I thought she would win the time before at Ludlow but she simply didn't handle the righthanded track or the quicker ground. Yesterday was very different, she relsihed the jucie in the ground and was much more comfortable going lefthanded. She has bags of speed and I have always wondered what, if anything she would find off the bridle, she found plenty and showed us how tough she is. She won in a fashion that allows us to beleive it won't be the first or last race she wins. Once the dust has settled we will consider what or where we go next. The day was made even more special by Net Work Rouge winning again.
Happy owner breeders, Phil and Donna having travelled all the way from Doc Martin country. PC Joe Penhale didn't make their journey any easier having sent them on a long detour around the local lanes shortly after leaving the surgery.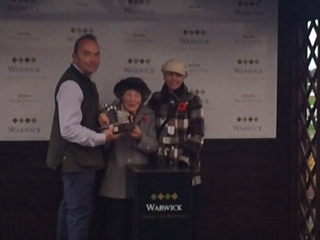 I feel rather jaded this afternoon having got up just after 4 a.m to take horses for an away gallop. We took Isle of Ewe, Katie Kilminster and 2 unnamed 4 year olds. Liz and Johnny Wills were there to see their homebred Kayf Tara filly Isle of Ewe work and Geoff Lloyd and Norma Harris came to see Katie Kilminster. There is a rather good story behind Katie Kilminster - Geoff, I think, tounge in check suggested to Norma that he would like to call his filly Katie Kilminster after an old girlfriend. Norma agreed but warned Geoff that when she runs he had to prepared to get a tap on the shoulder from a rather fat ugly looking woman saying "do you remember me, I'm Katie Kilminster". Norma instructed me to name the horse.
We have just had 2 more arrivals, a 2 year old filly by Kayf Tara out of Megalex and a 3 year old by Kay Tara named Sir Egbert. The filly will be backed and turned away and Sir Egbert will start his preperation to go into training having been here in the Spring.